T

h

e artful business conference
*Bespoke

* Magazine
Tickle the imagination is an exciting new online magazine celebrating the handmade and creative community in Australia.Released quarterly, we aim to inspire creativity... showcasing talented artists, crafters and designers, discovering emerging talent and sharing real-life stories and diy projects. Be inspired by gorgeous images, take a peek into the lives of artists and designers and discover ways to include creativity & handmade into your everyday living
!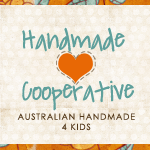 The Contemporary Handmade Alliance
The Contemporary Handmade Alliance's mission is to provide the Australian contemporary crafting community a space through which is shared high quality information, to assist and support members in their crafting endeavours; including the design, development, manufacturing, marketing, packaging and selling of their products, as well as the use of social media, online tools and industry networking.
in.cube8r is a fun, interactive gallery open to anyone who makes things by hand and for anyone who loves buying one-off unique items. An artist can lease a space for a small cost, from as little as $21.00 per week over a 3-month period. There is no commission on items sold; when an item is sold the artist receives 100% of the retail price. We are the one-stop-shop for all gift, accessory and self-embellishments and each in.cube8r is home to more than 90 of Australia's top artists.
in.cube8r: a small warm box where beautiful things grow